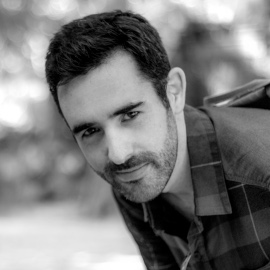 Simon Rohou
Passionate about underwater robotics for over thirteen years, I defended a Franco-British PhD thesis about localization methods for underwater robots with set-membership approaches. See more.

Mobile robotics motivates the study of new methods to deal with dynamical systems using a constraint programming approach. I recently finished a postdoctoral research on this topic at IMT Atlantique/LS2N (Nantes, France).

I am currently an associate professor of robotics at ENSTA Bretagne (Brest, France) and member of the PRASYS team in the research laboratory Lab-STICC.

CV: download (french version, December 2018)
Links: GoogleScholar, ResearchGate, HAL, arXiv, GitHub
PhD thesis on mobile robotics
Subject: Reliable robot localization: a constraint-programming approach over dynamical systems
Joint PhD between: ENSTA Bretagne/Lab-STICC (France), The University of Sheffield (England)
Funding: Direction Générale de l'Armement (DGA, France)
Thesis defended on Monday, 11 December 2017.



Download the manuscript (Bibtex)
Download the thesis reports
Download the slides



★ Award of the best PhD thesis in 2017 by the French research community in robotics
Speech (in English) during the award ceremony, 22/11/2018, at CNRS headquarters (Paris):

Publications (academic journals)
Talks
Guerlédan project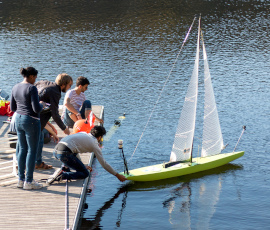 I am co-leader of the Guerlédan Project that gathers, twice a year, ENSTA Bretagne's students from Robotics and Hydrography-Oceanography around Guerlédan Lake (Brittany, France).

This offers to the students some unique opportunity to work on realistic challenges involving autonomous robots, hydrographic sensors and nautical resources deployed in such complex environment.

Various issues are dealt with, such as underwater dam inspection, black-box research, hydrographic survey, 3d reconstruction of floodgates, etc.
Software
I am developing the Tubex library: a C++ project providing tools to guarantee computations over sets of trajectories.
See more on the official webpage.
Consortium

Member of the Contredo project (ANR), that gathers several academic and industrial partners with the aim of designing a software tool based on intervals to handle dynamical systems.
Contact
Office M026
ENSTA Bretagne
2, rue François Verny
29806 Brest Cédex 9
Tél: +33(0)2 98 34 87 66

Send-me a message