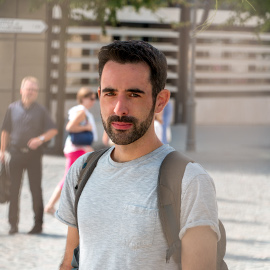 Simon Rohou
Passionné par la robotique sous-marine depuis plus de douze ans, j'ai récemment soutenu une thèse franco-britannique portant sur de la localisation de robots sous-marins par des méthodes ensemblistes. Plus d'informations.

La robotique mobile motive l'étude de nouvelles méthodes de résolutions de systèmes dynamiques par propagation de contraintes. J'ai récemment terminé un post-doctorat sur ce sujet à l'IMT Atlantique/LS2N de Nantes.

CV : télécharger (version française, octobre 2018)
Liens : GoogleScholar, ResearchGate, HAL, arXiv
Thèse en robotique mobile
Sujet : Localisation fiable de robots : une approche de programmation par contraintes sur des systèmes dynamiques
Collaboration franco-britannique entre : ENSTA Bretagne/Lab-STICC (France), The University of Sheffield (Angleterre)
Financement : Direction Générale de l'Armement (DGA, France)
Thèse soutenue le lundi 11 décembre 2017.



Télécharger le manuscrit de thèse (Bibtex)
Télécharger la présentation
Télécharger les rapports de thèse
Publications (revues scientifiques)
Présentations
Développement logiciel
Je développe la bibliothèque Tubex : un projet C++ permettant de garantir des opérations sur des ensembles de trajectoires.
Plus d'information: voir la page officielle.
Consortium

Membre du projet Contredo (ANR), rassemblant des partenaires académiques et industriels dans le but de concevoir un outil logiciel basé sur les intervalles pour traiter les systèmes dynamiques.
Contact
Bureau M026
ENSTA Bretagne
2, rue François Verny
29806 Brest Cédex 9
Tél: +33(0)2 98 34 87 66

M'envoyer un message