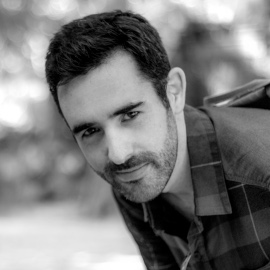 Simon Rohou
Passionné par la robotique sous-marine depuis plus de treize ans, j'ai soutenu une thèse franco-britannique portant sur de la localisation de robots sous-marins par des méthodes ensemblistes. Plus d'informations.

La robotique mobile motive l'étude de nouvelles méthodes de résolutions de systèmes dynamiques par propagation de contraintes. J'ai récemment terminé un post-doctorat sur ce sujet à l'IMT Atlantique/LS2N de Nantes.

Je suis actuellement enseignant-chercheur en robotique à l'ENSTA Bretagne (Brest) et membre de l'équipe PRASYS du laboratoire Lab-STICC.

CV : télécharger (version française, décembre 2018)
Liens : GoogleScholar, ResearchGate, HAL, arXiv, GitHub
Thèse en robotique mobile
Sujet : Localisation fiable de robots : une approche de programmation par contraintes sur des systèmes dynamiques
Collaboration franco-britannique entre : ENSTA Bretagne/Lab-STICC (France), The University of Sheffield (Angleterre)
Financement : Direction Générale de l'Armement (DGA, France)
Thèse soutenue le lundi 11 décembre 2017.



Télécharger le manuscrit de thèse (Bibtex)
Télécharger les rapports de thèse
Télécharger la présentation



★ Prix national de la meilleure thèse 2017 décerné par le GdR Robotique (CNRS)
Présentation (en anglais) du 22/11/2018 lors de la remise de prix au siège du CNRS (Paris) :

Publications (revues scientifiques)
Présentations
Projet Guerlédan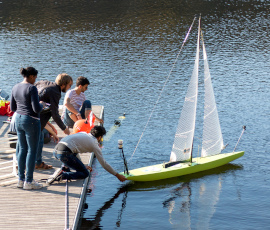 Je suis co-responsable du Projet Guerlédan qui rassemble, deux fois par an, les étudiants roboticiens et hydrographes de l'ENSTA Bretagne autour du lac breton de Guerlédan.

Ce stage de terrain offre aux étudiants une occasion unique de travailler sur des problématiques concrètes impliquant des robots autonomes, des capteurs hydrographiques et des moyens nautiques déployés dans l'environnement complexe qu'est ce lac artificiel. Les projets proposés sont variés : inspection sous-marine d'un barrage EDF, recherche de boîtes noires, levé hydrographique du lac, reconstitution 3D d'écluses, etc.
Développement logiciel
Je développe la bibliothèque Tubex : un projet C++ permettant de garantir des opérations sur des ensembles de trajectoires.
Plus d'information: voir la page officielle.
Consortium

Membre du projet Contredo (ANR), rassemblant des partenaires académiques et industriels dans le but de concevoir un outil logiciel basé sur les intervalles pour traiter les systèmes dynamiques.
Contact
Bureau M026
ENSTA Bretagne
2, rue François Verny
29806 Brest Cédex 9
Tél: +33(0)2 98 34 87 66

M'envoyer un message